Venice Evening Tour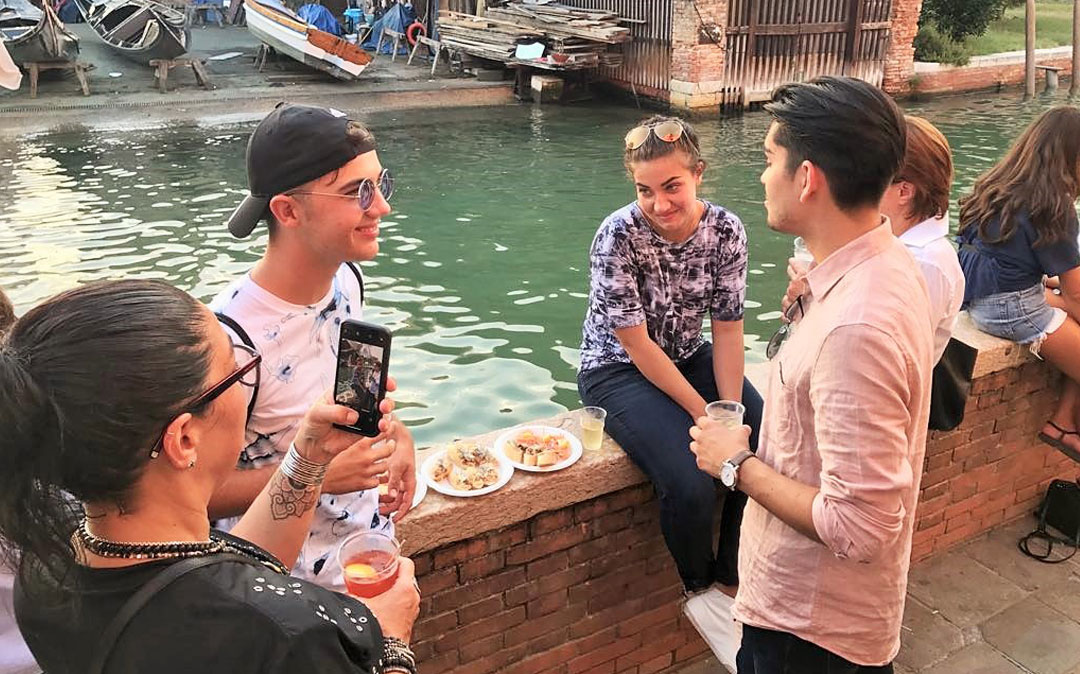 About this tour
Streaty Venice food and wine tour is a relaxing 3 hr walk around the intricate alleys of the old town. The Venice walking tour goes through Santa Croce and Dorsoduro sestrieri (tr. districts), areas normally untouched by the tourist crowd. Streaty gives you the chance to follow the same bar route that real Venetians do after office time or during special celebrations. Samples take place in traditional bars called Bacari, carefully selected by streaty guides based on the quality of food and the authenticity of the location. Along the Venice Bacari tour your  Streaty guide will offer you a selection of local dishes and cicchetti (tr. tapas). Most of samples belonging to the traditional cuisine contain delicious fish cooked in a very creative way. If you don't like fish, just let us know, the guide will offer you an alternative anytime possible.
As for drinking, don't worry! A Venice Bacari tour cannot leave your mouth dry! Every food sample is accompained with a drink: prosecco, wine and grappa cannot be missed in a real Venetian experience!
Not only food! During the food tour of Venice, your Streaty guides will discuss many issues, such as Venetian history, daily habits and old traditions.
This is a tourist-trap free experience!
SPECIAL LAUNCH PRICE
69 €
All included!
What's included?
Guided walking tour​
Food: venetian dishes and tapas
4 drinks: prosecco, spritz, wine and grappa
Venetian dessert
Streaty Venice Food Passport
Send a request!
Tour in details
City: Venice
Type: food & wine tour
Availability: from Monday to Saturday, all year round
Language: English and Italian
Participants: min 2, max 8
Duration: 3 hr
Trail skill level: easy-medium (Venice urban system involves many steps)
Starting point: piazzale Roma, right under the bridge of Calatrava/della Costituzione
Meeting time: evening tour starts at 5 pm
Arrival point: the tour ends in Campo Santo Stefano
Itinerary: Santa Croce, Dorsoduro.
Price per person: adults 65 € food & drinks included / 20 € children 6 to 11 / free for infants 0-5
NOTES – Prior Reservation is necessary to join the tour. This is not a free walking tour.
Waiting policy: 10 minute. To make sure the tour runs on time, we will only wait for ten mins past the allocated meeting time. We do not guarantee a second chance to reach the group.
We recommend you to wear comfy walking shoes and to bring a bottle of water.
Are you vegetarian? No probs!
When booking a tour, please inform us on your special nutritional needs. There are alternatives for vegetarians! This tour is not suitable for vegans. Most of traditional Venetian food contains fish.
Can't make it for the evening tour?
Are your ready to eat the streets of Venice with us?
Food and drinks
Ths is not a gourmet tour, It's a bacari tour. Bacari are typical small inns
Venetian street food is mainly about tapas, mostly with fish.
Sometimes we offer "unusual" specialties such as crabs or veal offal
Gluten free and dairy free options are not available
Most of food is eaten with hands.
Alternative samples are provided only for vegetarians or allergics.
Not all specialties listed in the Food passport are available on a daily basis. The food passport must be considered merely as a souvenir.
All food and drinks offered by the Streaty guides are included in the price. Extras or seconds are on participants' expense
Water is not included but you can have it to replace some alcoholic drink
The above listed points may not be applicable to private tours
Waiting Policy, Accessibility and other important info
We have a ten min waiting policy.
We don't have any cancelation policy. However, We greatly appreciate to be informed as soon as your plans changed
There are very few chances to sit along the walk
This tour is not recommended to travelers with limited walking capacity. See private tours
Standard group tour is not accessible to wheel chair. See private tours
Dogs are not ammitted in group tours.
Venice can be pretty much rainy in winter time. check the forecasts
We recommend wearing comfy shoes all year round
Smoking: please avoid smoking during food stops
The above listed points may not be applicable to private tours